Photographer Angela Forker made headlines last year thanks to her creative newborn photos set against colorful backdrops. Now, her latest series, "The Precious Baby Project," is shining a spotlight on babies with special needs and their loving families.
The Precious Baby Project features babies with serious medical conditions, photographed at Forker's home studio in New Haven, Indiana. The photographer, who offers these sessions free of charge, completes one or two each month and has captured 23 babies to date.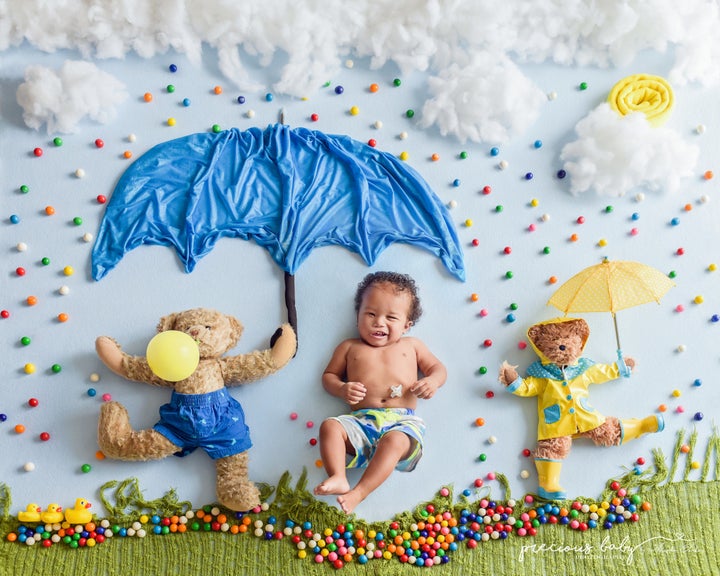 "I'm raising awareness for babies with special needs, while bringing hope and encouragement to their families ― as well as giving them a piece of art that they will cherish for a lifetime," Forker told HuffPost.
The idea for The Precious Baby Project came to Forker after "a time of reflection and prayer," as she searched for a way to use photography to make a difference in people's lives.
"This past February, I came to realize that my [newborn] scenes would be perfect for babies with medical conditions that prevented them from being able to sit up for a photo," she explained. "Many photographers are at a complete loss in these situations!"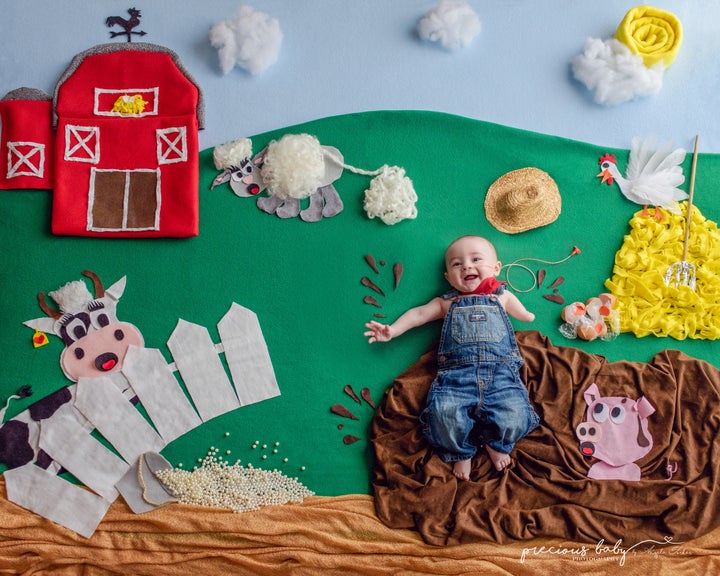 Forker has found participants by putting out model calls and encouraging parents to reach out on her Facebook page. Some have traveled three to four hours to her home studio.
When creating each baby's elaborate scene, Forker collaborates with the family and tries to incorporate the child's specific medical condition or something of interest to the family.
For example, one baby was dressed as an astronaut to incorporate his helmet and trach tube as an oxygen line.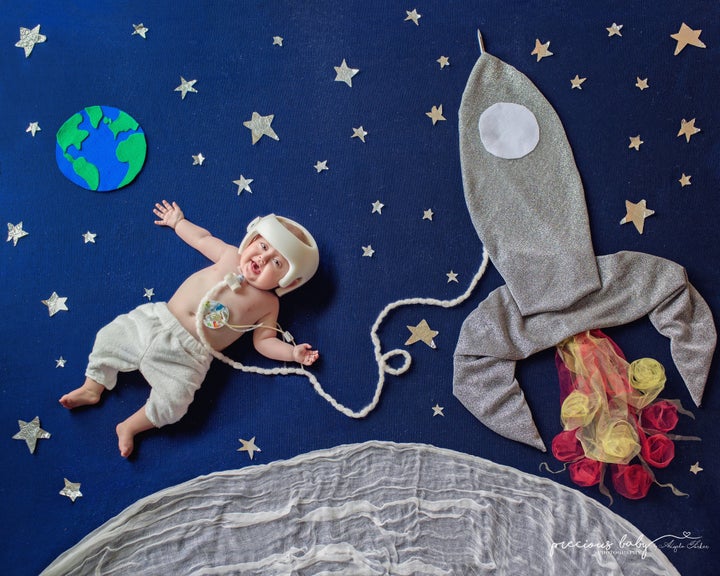 "This baby has a condition that is similar to the boy Auggie in the book and movie 'Wonder,' who wears an astronaut helmet, so this scene was especially fitting for him!" the photographer explained. "I wanted him to know 'The Sky's the Limit.' As he grows up and sees that photo, I hope that he will believe that anything is possible for him."
Another scene, which Forker calls "Forget-Me-Not Fairy," features a baby who was projected to live only 6-12 more months.
"Her name is Ellis Rose, so I incorporated roses. She is such a blessing to her family who chose to adopt her specifically because she has special needs, so I thought it would be special to have her watering love wherever she goes," the artist said. "And of course, she is a Forget-Me-Not Fairy, because ― even though she may be leaving them soon ― she will never be forgotten."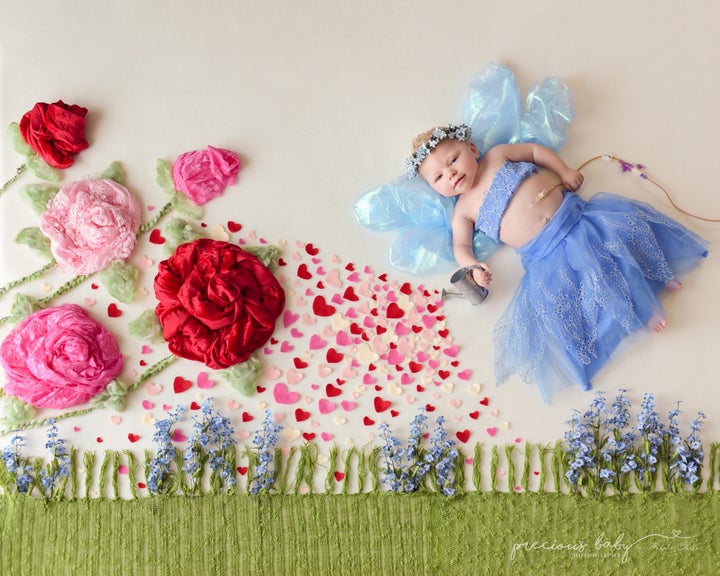 Other symbolic elements include the bib number 321 for a baby with Down syndrome (aka trisomy 21) and a constellation of stars in the shape of an incomplete heart around a baby with a heart defect.
When the parents see their babies' finished photos, they are often moved to tears, said Forker. "For most families, these are the only professional photos they've ever had of their child," she noted. "One family was so thankful that they sent me a bouquet of flowers!"
The Precious Baby Project is dedicated to Madalyn, the daughter of a couple at Forker's church. Madalyn was born with serious medical issues and lived for only 15 days.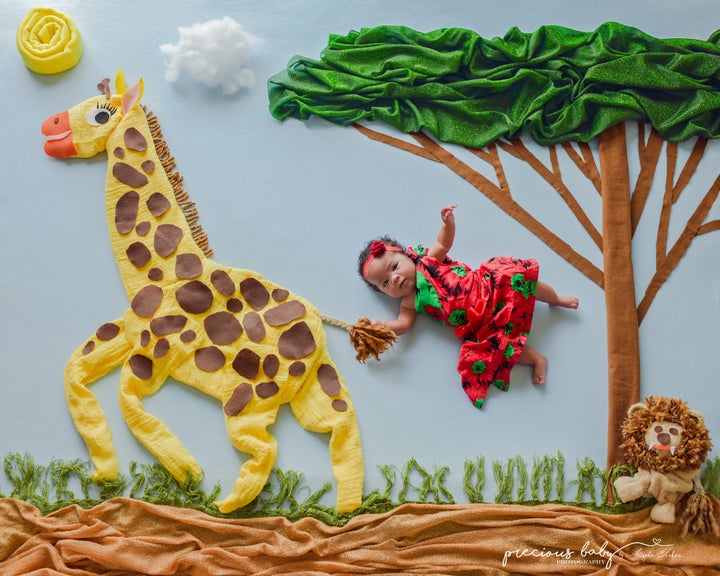 Ultimately, Forker hopes her project raises awareness around babies with special needs.
"I've been so moved by the great love and dedication these parents have for their babies," she told HuffPost. "I am also very moved by the fact that, while life can be very challenging, these babies bring immense joy to their parents."
The images have been displayed in hospitals, clinics and YMCAs, and Forker hopes to turn the series into a book or calendar to raise funds for children with special needs.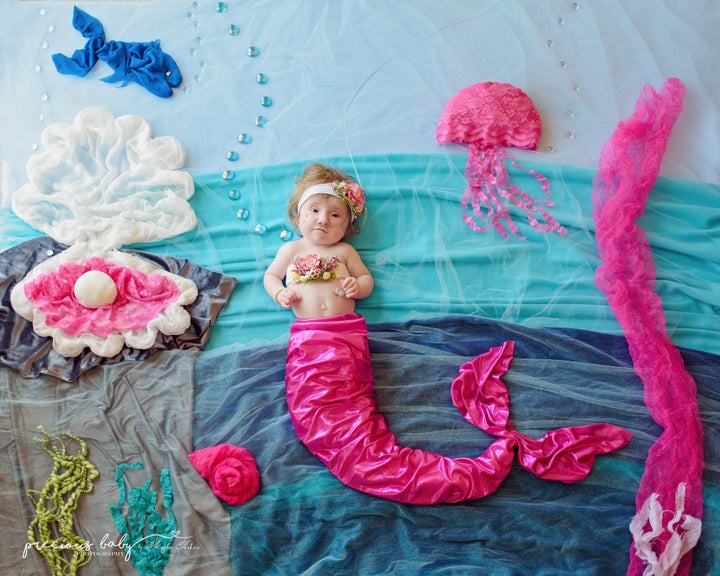 "What a privilege it is for me to come into close contact with these precious little ones and their remarkable families!" the photographer said. "My hope is to continue to spread hope and joy to many more families and that my artwork will touch many lives."
Keep scrolling and visit Forker's Facebook page to see more images from The Precious Baby Project, along with quotes from the participants' parents.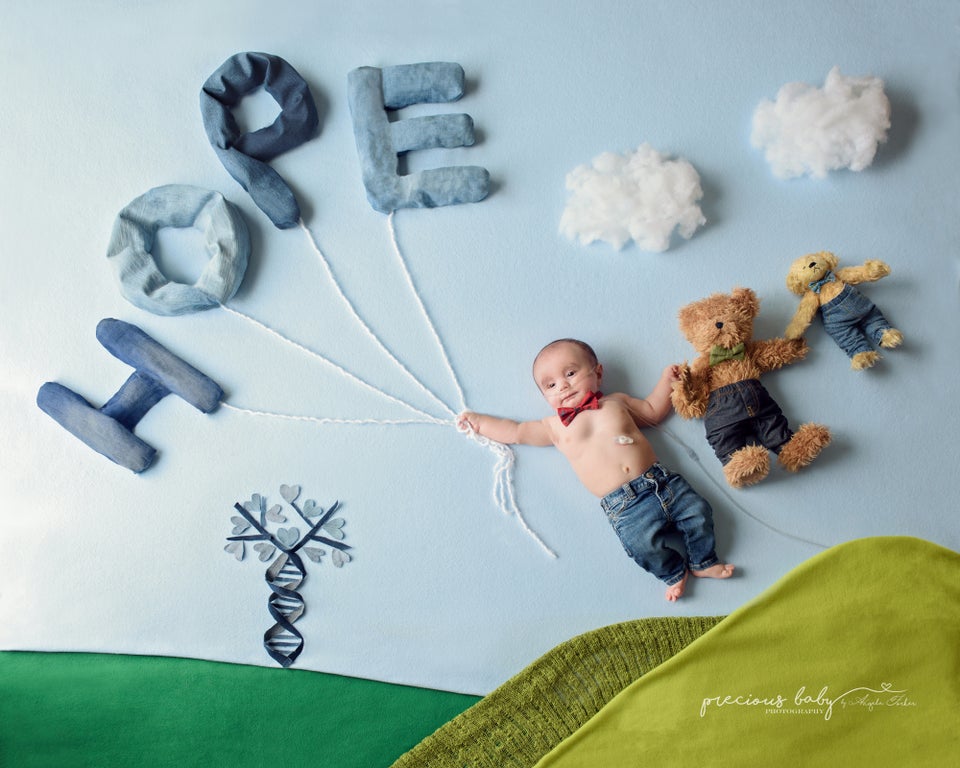 The Precious Baby Project/Angela Forker
"Greyson was diagnosed with trisomy 18 also known as Edwards syndrome at just 4 days old. Greyson does not eat orally and he cannot do things that most babies at his age can do. We were told that we probably wouldn't leave the NICU with a baby. He has proved these doctors WRONG, and he's almost 6 months old! He is thriving and getting stronger everyday! I do believe God gave us this precious little boy for a reason, and I'm so glad he did." — Greyson's parents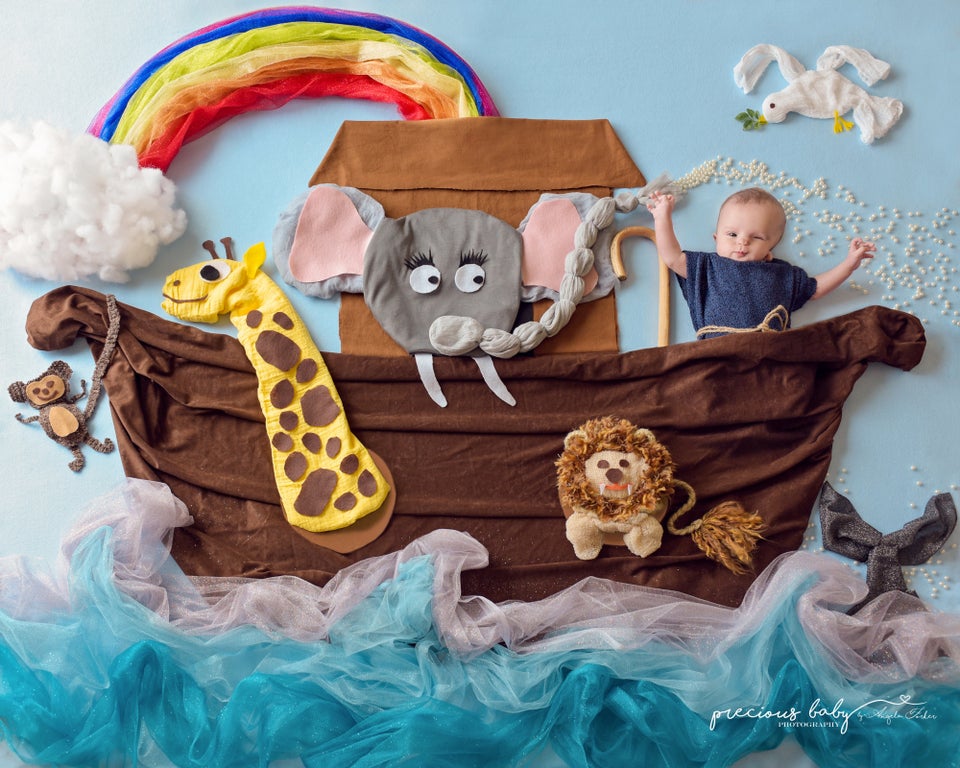 The Precious Baby Project/Angela Forker
"My son has Goldenhar syndrome. A genetic disorder that can cause facial and other abnormalities. You see, my son Alexander, is my Golden Soldier, and I'm the mom trying desperately to let him grow up, but terrified of doing so at the same time. I'm fearful of people's reaction to him, and incredibly sad that people might judge him before they have the chance to meet him. He melts the heart of everyone who gets to know the boy he is, but some people are rushing through life preferring to judge people with their eyes instead of their hearts. I wish everyone could see my boy and other Golden Soldiers, with their heart goggles on. Just once would be enough!" — Alexander's mom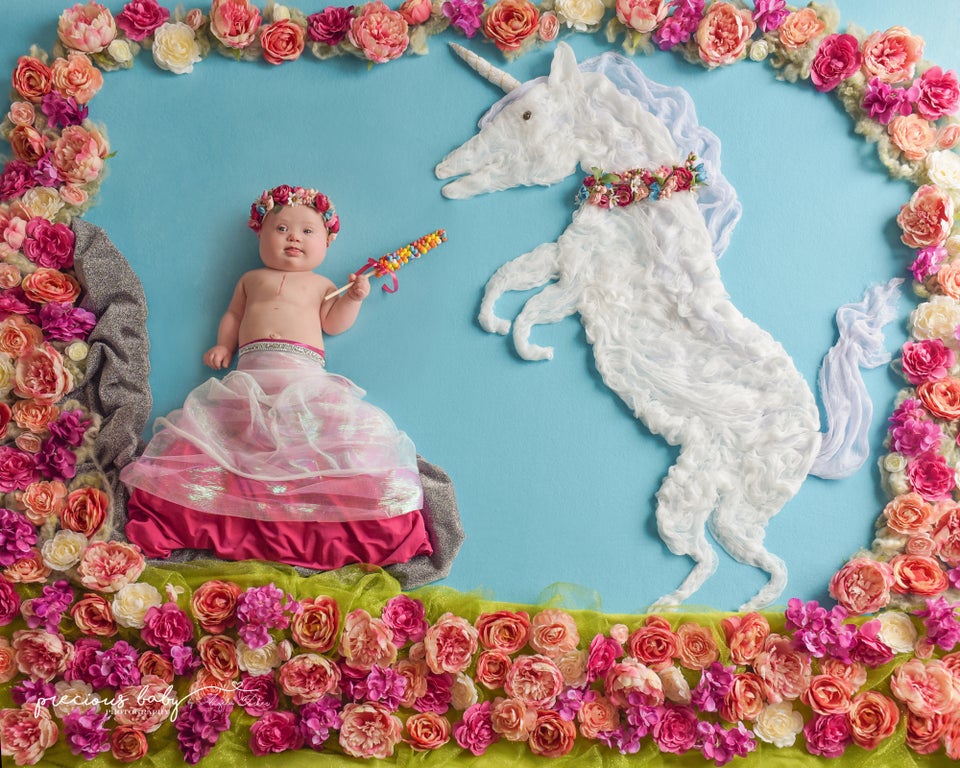 The Precious Baby Project/Angela Forker
"Our sweet Josie was born on Jan. 2, 2018. To our surprise Josie was diagnosed with Down syndrome and a complete AV canal and pulmonary artery stenosis shortly after birth. We spent a month in the NICU and were sent home awaiting her open heart surgery. On May 4, she had the surgery to repair her heart and save her life. Her recovery has been nothing short of miraculous and she is now thriving. In her five short months, she has taught our entire family how precious life is and how lucky we are to have her as a part of our family. Although there will be challenges to face, her future is filled with hope and possibilities." — Josie's parents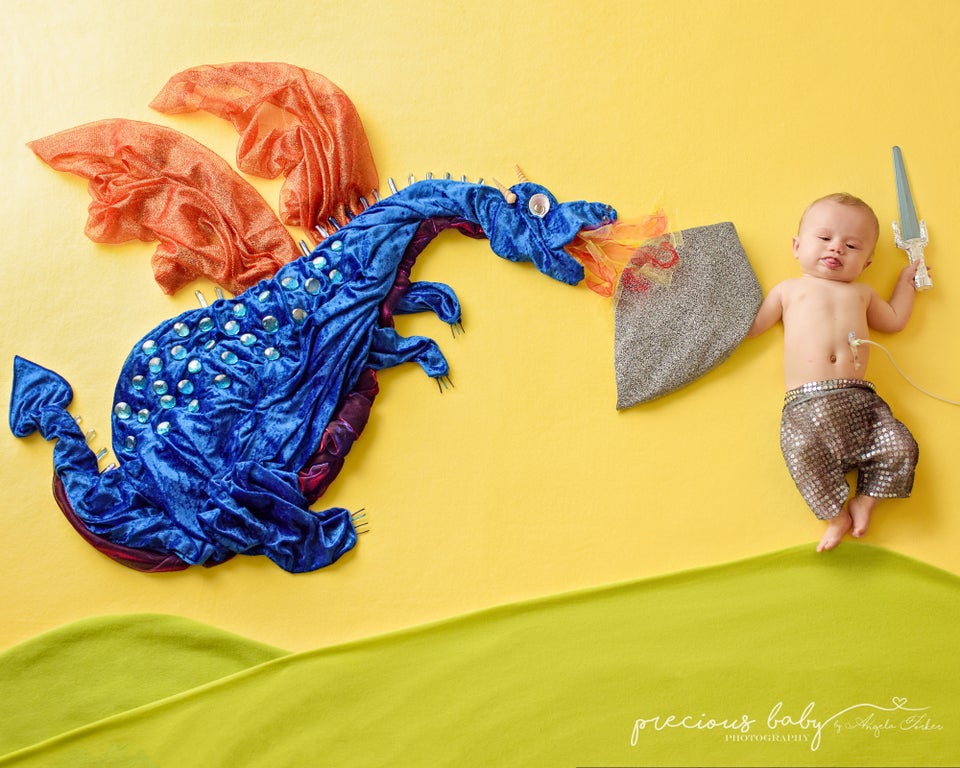 The Precious Baby Project/Angela Forker
"Maddox was diagnosed with severe laryngomalacia at 10 days old. This means that his throat is weak, making breathing very difficult and he is unable to eat by mouth. He has had three surgeries and 22 days of hospital stays. Because of all his challenges he has faced so far, he requires multiple therapies each week and has a large team of doctors. Our hope for him is that he will be able to eat food orally and play as many sports as his heart desires." — Maddox's family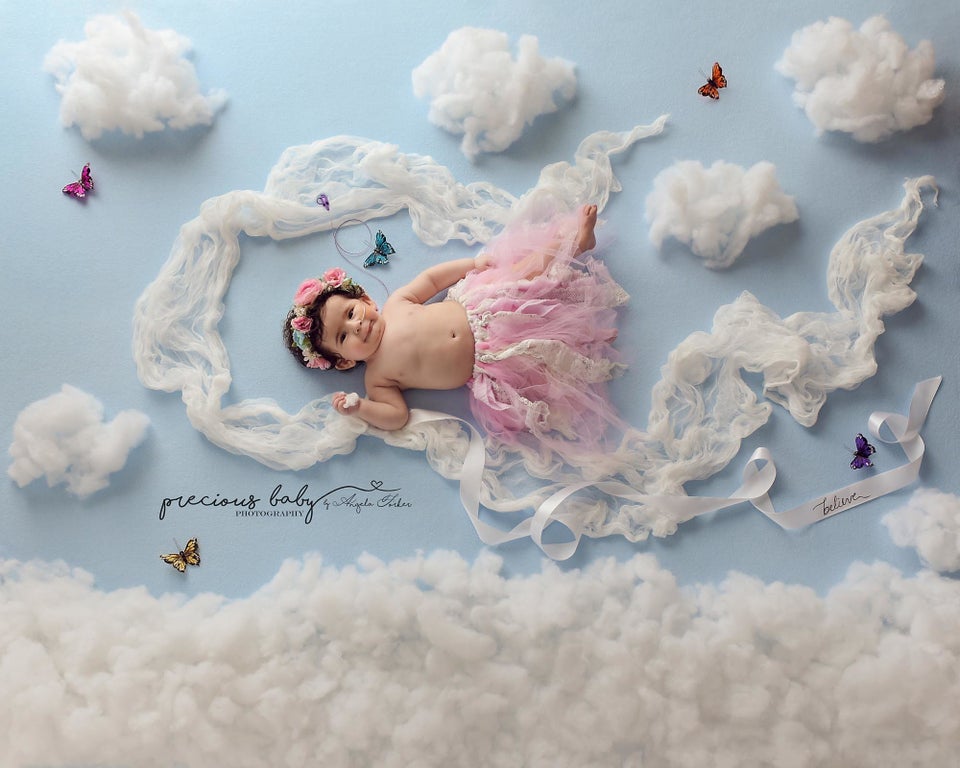 The Precious Baby Project/Angela Forker
"Cora is one of a kind. Her smile lights up a room. During her long hospital stay both VACTERL and Goldenhar syndrome were raised due to her scoliosis, hemifacial microsomia, and other anomalies. She struggles with obstructive breathing and feeding due to her craniofacial condition. At just 2 months old, she underwent an uncommon surgery, a tongue lip adhesion. The procedure helped beyond what doctors expected and she was home two weeks later with no oxygen support! Cora is now thriving. She has more surgeries to overcome in the future but she is resilient. She will continue to beat all odds and smile through it all! She's our little superhero. We are beyond proud to be her parents." — Cora's family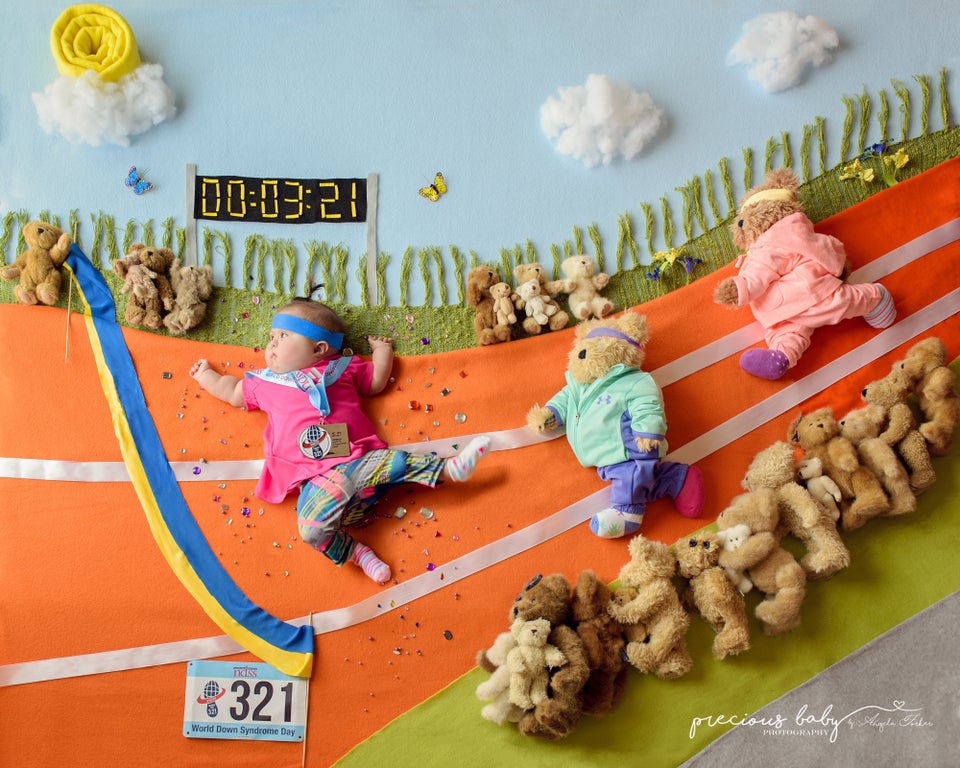 The Precious Baby Project/Angela Forker
"We found out at birth that Eliana has Down syndrome, and a few days following, we found out she has a heart defect common in Down syndrome called 'Complete AV Canal' that would require open heart surgery in her first six months of life. She spent 10 weeks in the NICU, partly because she was almost six weeks early, but mostly due to her inability to drink from a bottle consistently. As her heart symptoms got worse, she took a bottle less and less. Prematurity, Down syndrome and the heart defect all played a factor in her struggles to eat. But she is gaining weight and becoming stronger every day. We have learned so much about what people with Down syndrome can do, and we're excited for her future!" — Eliana's mom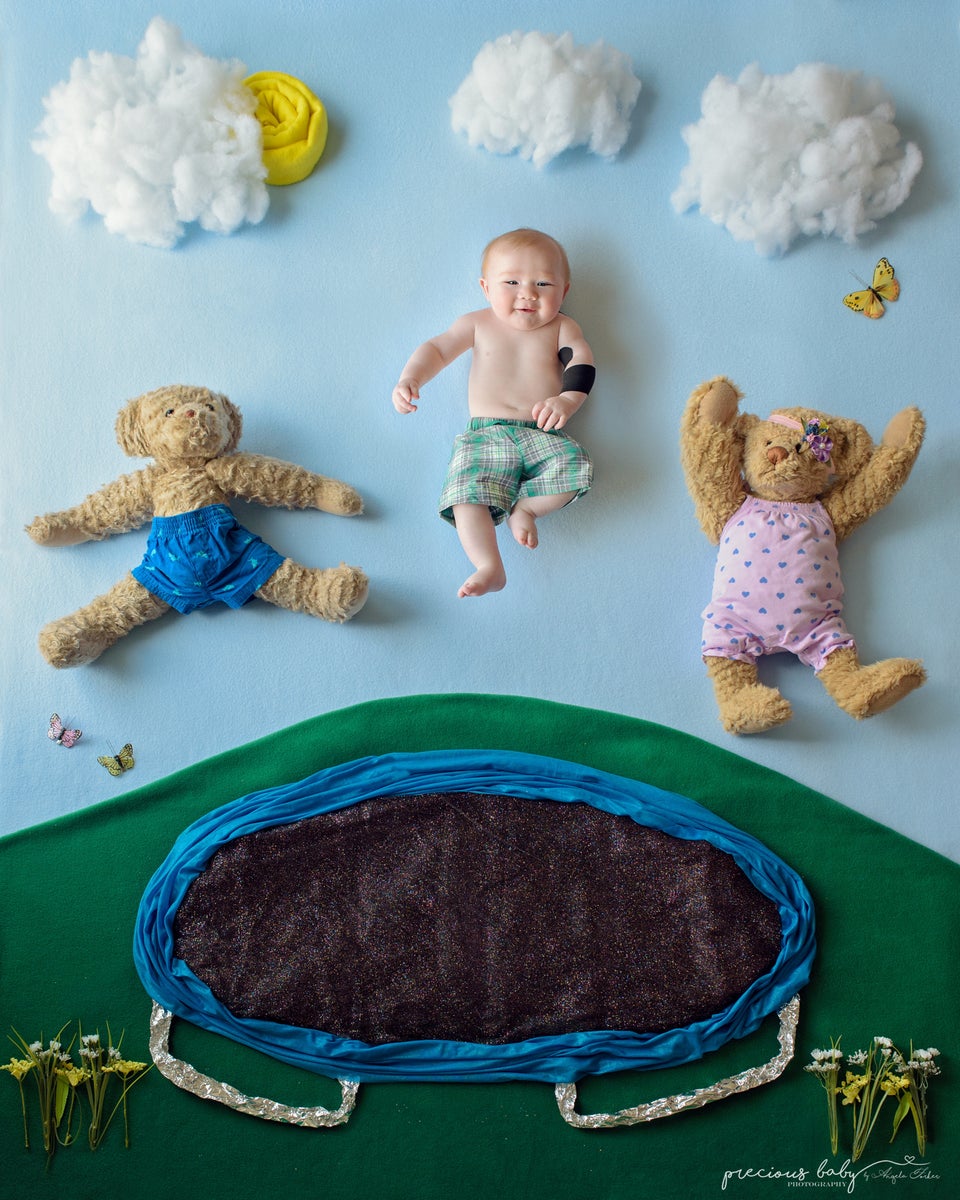 The Precious Baby Project/Angela Forker
"Levi Lee was a healthy 9 pounds, 13 ounces at birth. That being said, his delivery was a bit complicated. Levi got stuck during delivery and due to some extra pulling and tugging on his head and neck he now has nerve damage called brachial plexus injury. Complications from the delivery left Levi with paralysis of his left arm. At 4 weeks old Levi started occupational therapy, and he is now able to rub his eye with his left hand. We continue to work with him daily to regain full function of his left arm. Levi's smile can brighten anyone's day and we are so blessed to be his parents." — Levi's parents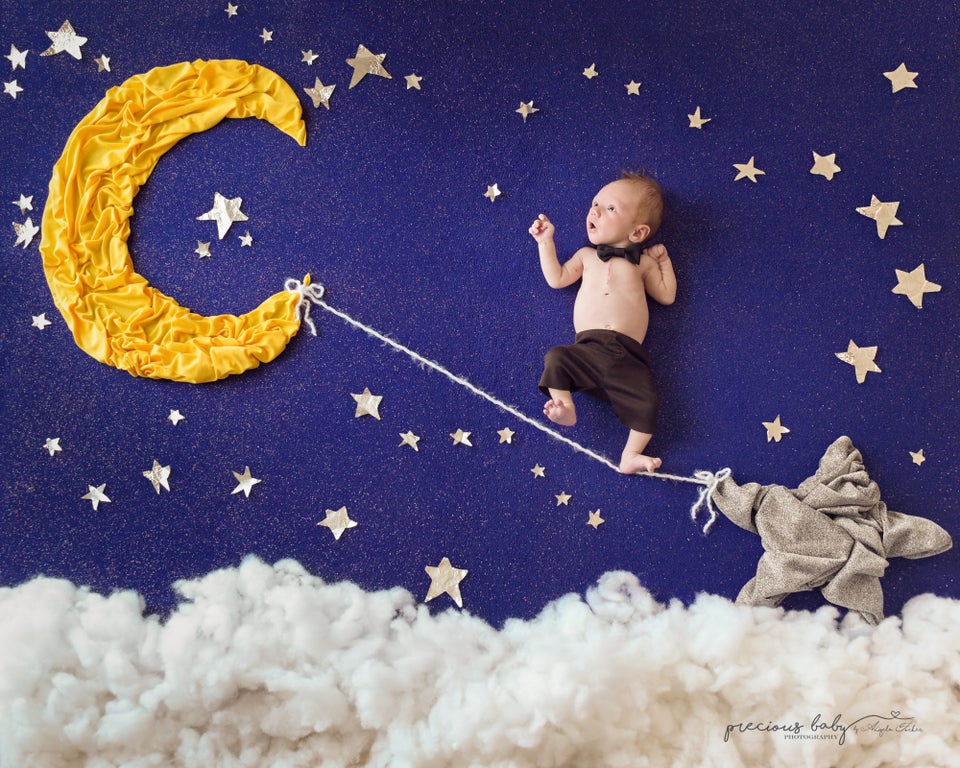 The Precious Baby Project/Angela Forker
"Our little hero Declan was born on July 3, 2018, with a congenital heart defect called double inlet left ventricle which means he only has one working chamber to pump blood to his body. He had his first open heart surgery at 7 days old, and will have two more in the future that will reroute the blood flow and allow him to live longer. He has taught us to appreciate the little things in life, be present in every moment, and that we are stronger than we ever thought possible. Despite his zipper scar and half a heart, to us, he is perfect." — Declan's mom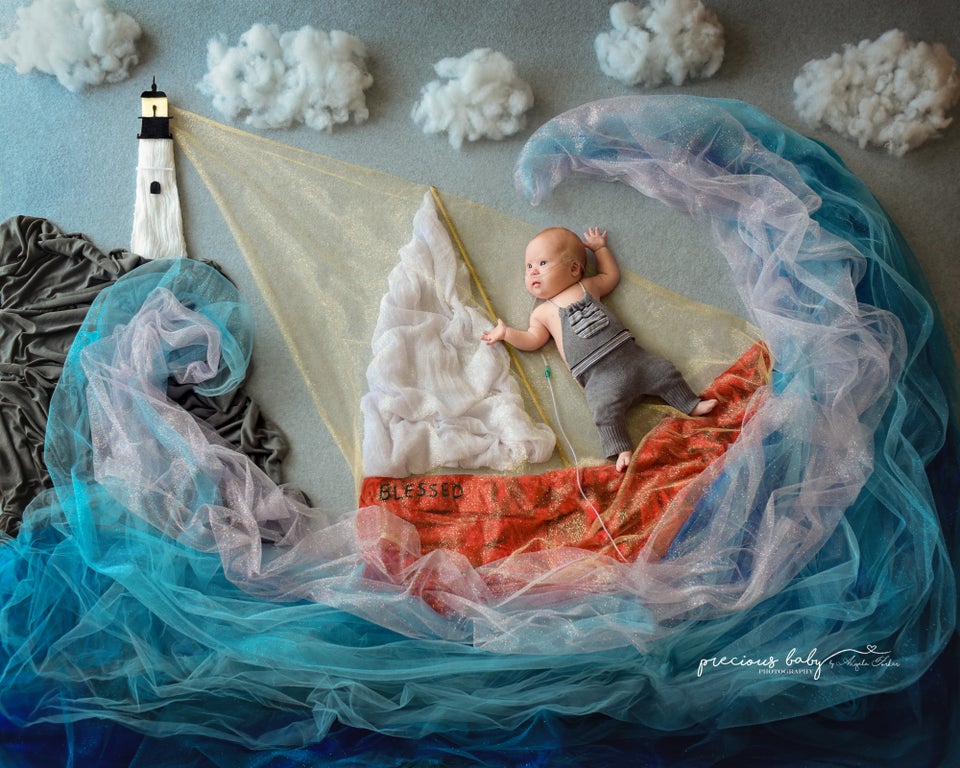 The Precious Baby Project/Angela Forker
"Being a mother of 11, life's journey was already filled with a lot of excitement and challenges. Unexpectedly the past year has had more than usual. In August, I was life-flighted to the hospital. Several days later I was diagnosed to be in septic shock. After three weeks in the ICU, I returned home. To our surprise, we got a positive pregnancy test result. Even more shocking, the pregnancy was fairly typical, excluding my PICC line for the next three months and recovery from osteomyelitis. Then just nine weeks from my due date, I had a second bout of sepsis. After all of these obstacles, we met our beautiful Coy. We immediately recognized he had trisomy 21, Down syndrome. This did not phase us at all, we were in love. We have been unconditionally blessed." — Coy's parents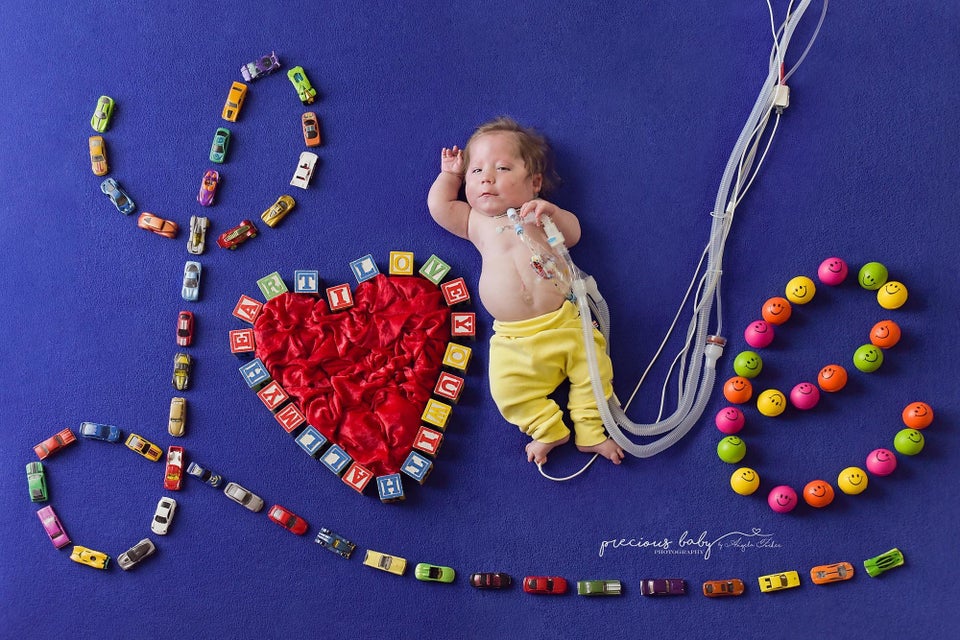 The Precious Baby Project/Angela Forker
"'Hi my name is Remington, most people call me Remi. I was born prematurely at 34 weeks by emergency C-section. And when I entered this world to mommy and daddy's surprise I was a very special baby boy and a handsome one.' Remi has Kagami-Ogata syndrome, chronic lung and pulmonary hypertension. This syndrome is a deletion of a portion of the 14th chromosome. And with Remi's special syndrome it causes his body to have smaller lungs. He has what is called bell-shaped ribs, among other things. At not even a month old, Remington had surgery to receive his trach and G-tube, he also had his appendix removed and a malrotation done on his intestines. Remington has spent the larger portion of his life in hospitals. But he has been home about two months now with mom and dad thanks to all of his nurses and machines. Remington is on a ventilator, oxygen, an apnea monitor, a pulse ox and feeding pump, and has a nurse! But that just makes him oh so much more special. And makes us love him oh so much more! Remington also is a little rock star! He has his own group of fans!" — Remington's mom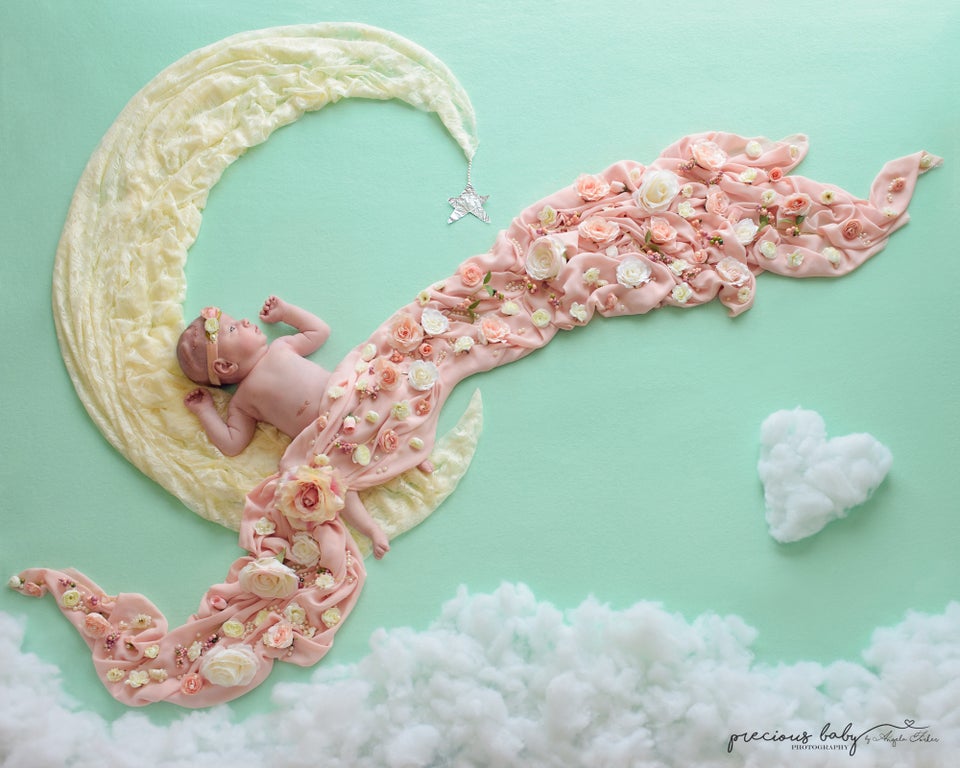 The Precious Baby Project/Angela Forker
"We were chosen twice to parent our miracle girl. Not only were we chosen by God to be her family, but we were also chosen by Josephine Patricia's brave biological mother to be hers. She has a rare brain malformation called schizencephaly, which for her means that she is missing 50 percent of her brain. She also has hydrocephalus and a shunt to mediate it as well as epilepsy. Though her diagnoses are scary, Josephine Patricia is precious in our and in His sight. We are beyond blessed to call her daughter and to see her be cherished as sister to her nine siblings." — Josephine's mom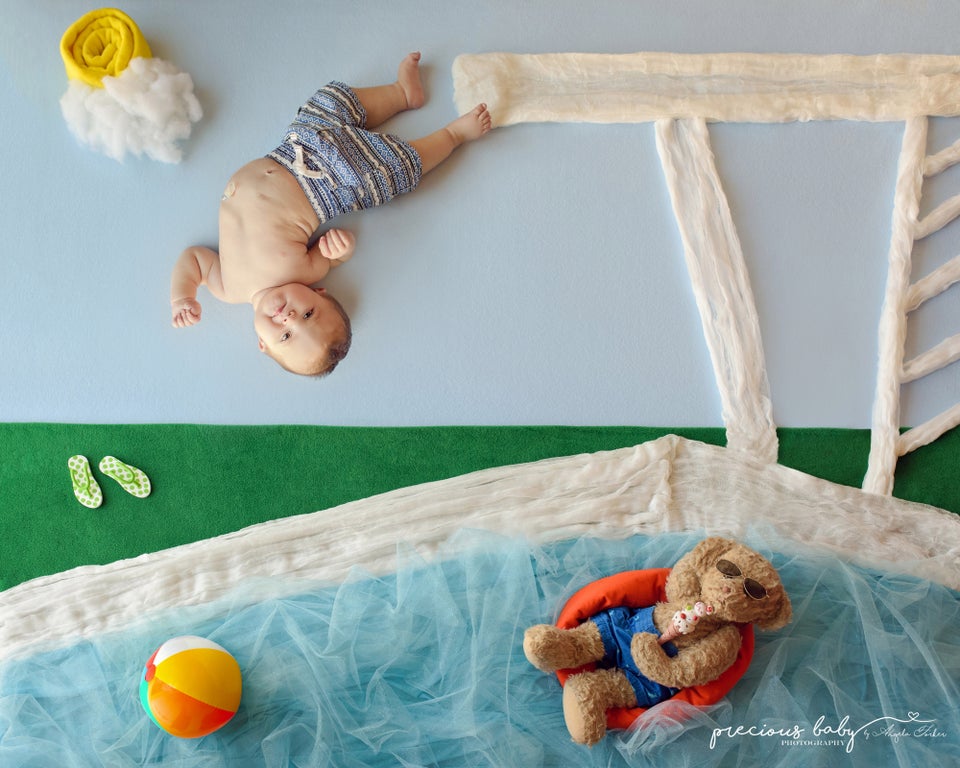 The Precious Baby Project/Angela Forker
"Bentley was involved in a tragic accident. It caused bleeding in his brain, blood clots, a shift in his brain, and he suffered from multiple strokes. I was told he wasn't even going to make it. The accident caused him to lose his vision and set him back to newborn level. But here he is today!! Still putting up a fight and improving every day!! He's definitely a little miracle baby." — Bentley's mom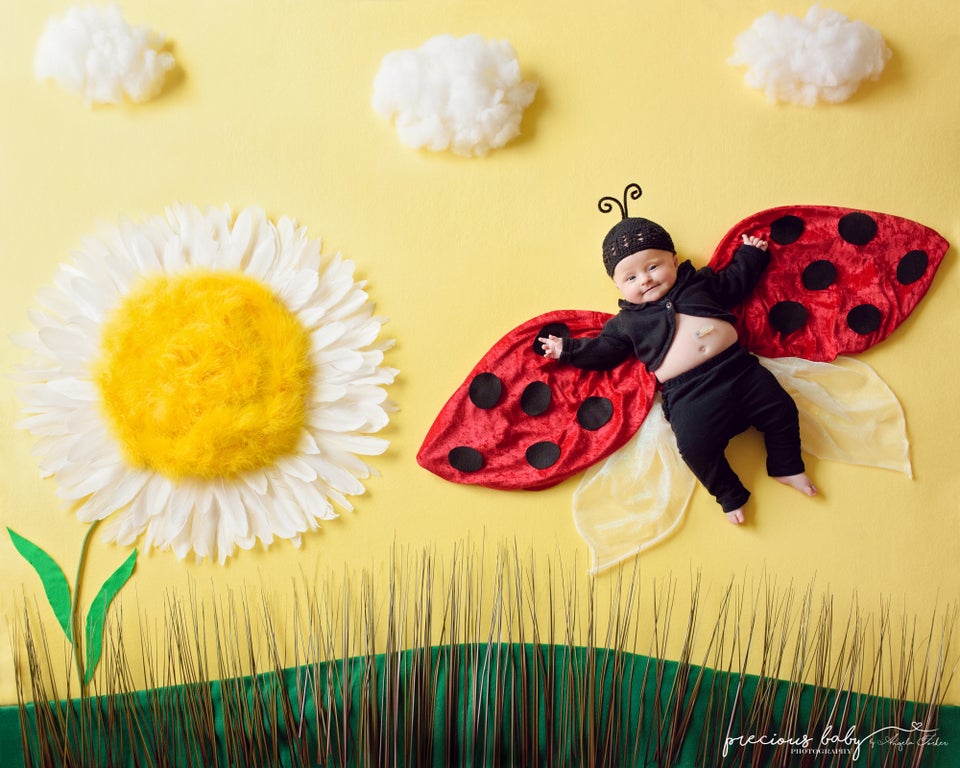 The Precious Baby Project/Angela Forker
"Prader-Willi syndrome is a highly complex disorder and occurs in 1 in 30,000 live births. This syndrome involves very low muscle tone, neurological delays, in future years these kids are always hungry and never completely feel full. They are unable to maintain their body temperature. They have a very high pain tolerance. We have hope in our genes! God gave her to us for a reason, and we will give her the best life we can." — baby girl's mom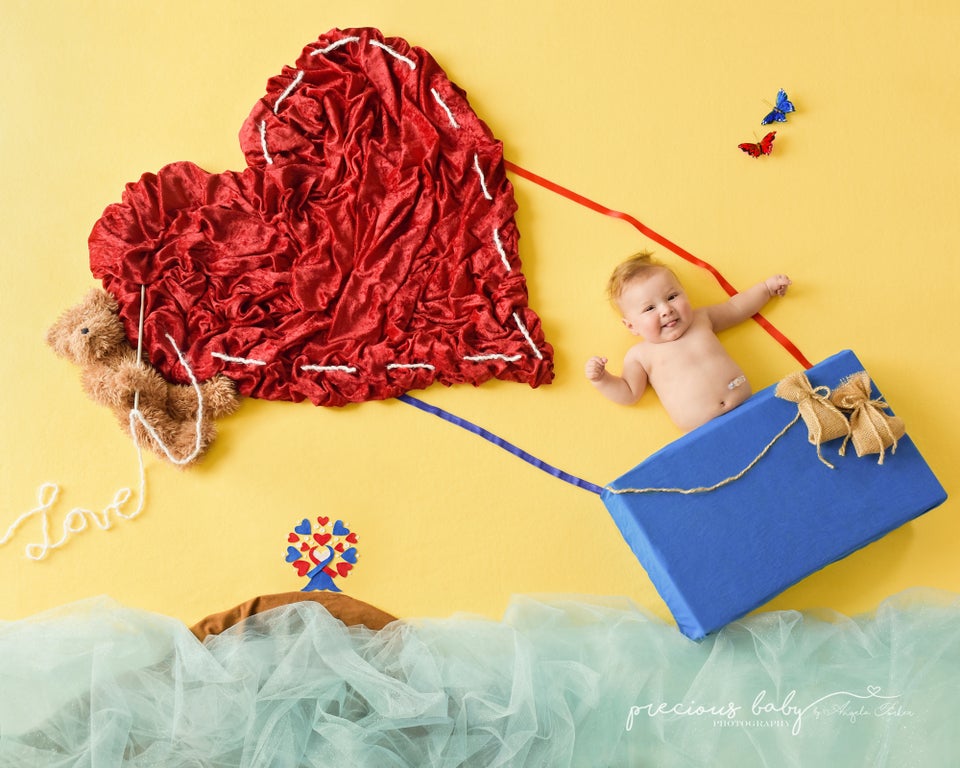 The Precious Baby Project/Angela Forker
"Anderson was born with double outlet of the right ventricle, transposition of the greater arteries, pulmonary stenosis, and laryngomalacia. These conditions require three heart surgeries. The two he has remaining will be open heart. He also has to have a G-tube for all his feedings. He is so special and unique, and the happiest baby!" — Anderson's parents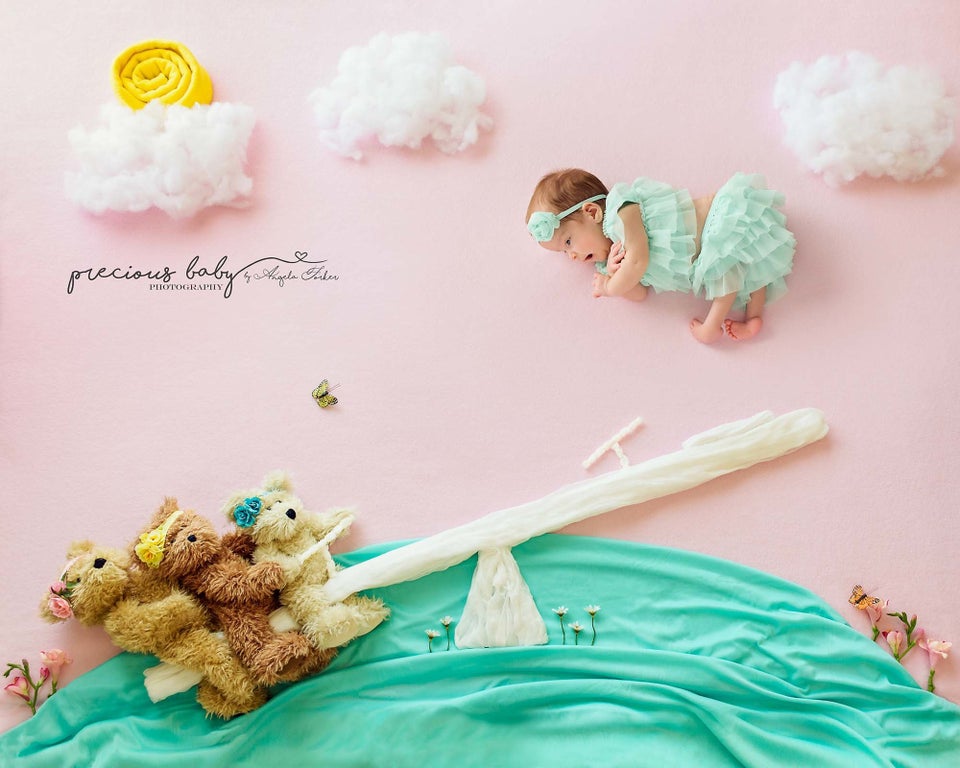 The Precious Baby Project/Angela Forker
"We found out at our 20 week ultrasound that our sweet baby has spina bifida and bilateral clubbed feet. We immediately knew that we wanted to begin the process of qualifying for fetal surgery. After two weeks of testing, and by the grace of God, she and I both qualified to undergo the potentially life changing procedure to close her L4 Myelomeningocele lesion. The surgery was successfully and fetoscopically completed on May 30 at Cincinnati Children's Hospital. Vivienne Rose was born at 34 weeks on Aug. 12 and amazed our physicians and nurses during her short NICU stay. She discharged home on Aug. 30 without the need for any medical interventions related to her diagnosis. She amazes us every single day and has taught us that the love of a parent is boundless. We cannot wait to watch her show the world that when given the chance, you can do anything!" — Vivienne's mom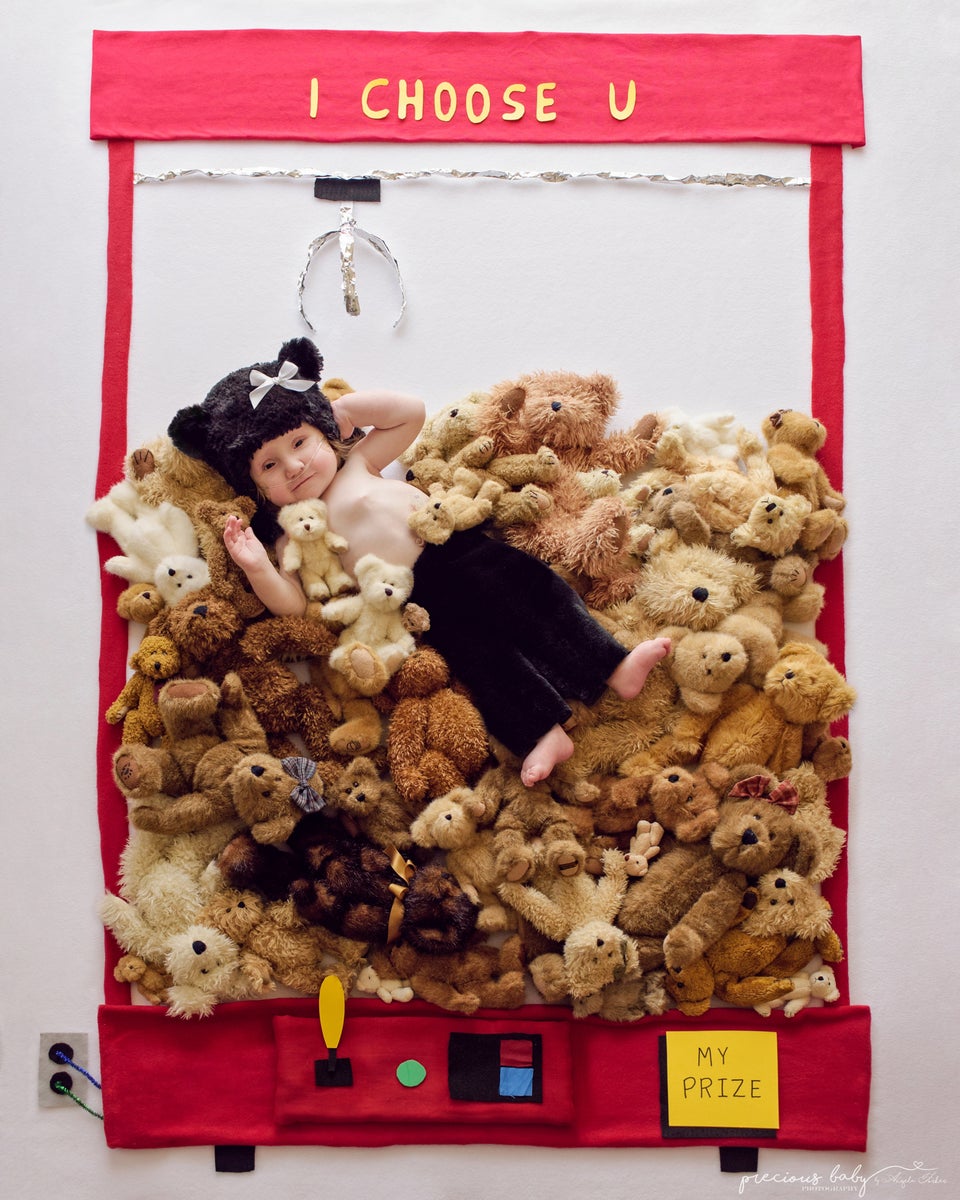 The Precious Baby Project/Angela Forker
"Ivy has a rare form of trisomy 9, called mossaic trisomy 9. Only some of her ninth chromosomes are duplicated versus all of them, which makes her condition not as severe. However, she does [have] a handful of birth defects/complications from it. She has a floppy airway and laryngomalacia, which require 24/7 oxygen and only G-tube feedings. She has infantile spasms, which is a form of epilepsy; hip dysplasia with severely bilateral dislocated hips; a cyst in her brain; and vision complications. She is globally delayed yet she is smiling, squealing, kicking, rolling and improving every day! She is an absolute blessing and we are thankful God gave her to us!" — Ivy's mom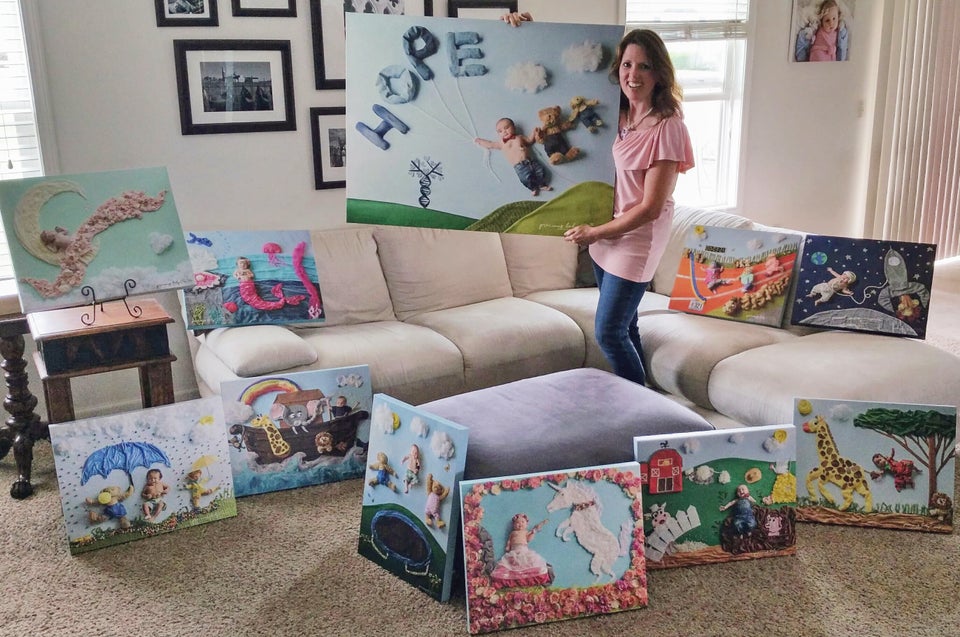 Courtesy The Precious Baby Project/Angela Forker
Forker with some of her images from "The Precious Baby Project."