After years of dominating on the field professionally, it's no surprise that retired soccer player Abby Wambach has solid advice for how to talk to kids after sports games in a way that fosters their love for competition even more.
At HuffPost's How To Raise A Kid conference on Friday, the two-time Olympic gold medalist chatted with Lydia Polgreen, HuffPost's editor-in-chief, about raising kids to have a healthy relationship with sports.
In 2017, Wambach married Glennon Doyle, the author of Love Warrior and creator of the popular online community Momastery. Wambach told Polgreen she's now a "bonus mom" to three kids — Chase, Tish and Amma — whom Doyle shares with her ex-husband, Craig Melton. Together, the three parents aim to raise kids who are informed and empowered.
When it comes to their two youngest kids, who play soccer, Wambach makes a point to ask a few important questions and offer one significant reminder at the end of their games.
"Two or three questions that I like to ask my kids when they come off the field [are] 'Did you have fun?' and 'What was something that you learned that you've never learned before?'" she said. She added, "The third thing — it's not a question — it's an 'I love you. I saw you working really hard, and I love you.'"
Wambach, who is a member of the board of advisers for Oath, HuffPost's parent company, stressed the importance of letting kids fail and allowing them to learn from their mistakes, whether that's on the field or off.
"Part of what makes sports so beautiful and important for these children is the learning of failing — the learning of failing in the moment, the learning of failing at losing, the learning of failing around their peers, the learning of making the ultimate mistake that makes their team lose," she said. "And what we parents don't do well enough is let our kids fail, is let our kids fall down so that they can figure out how to pick themselves up."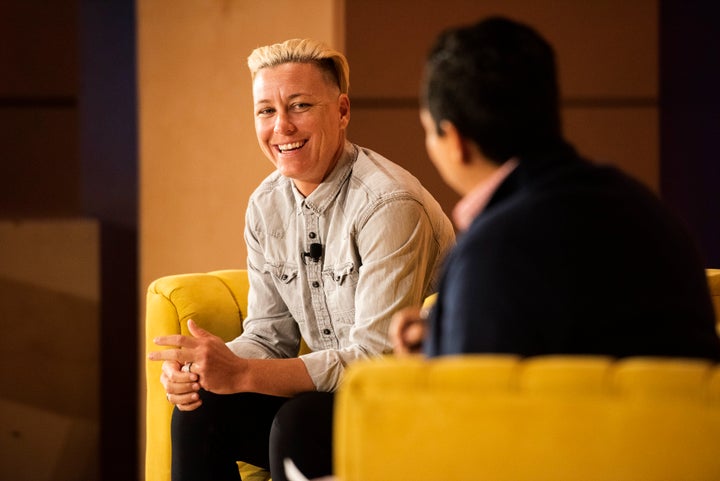 The soccer star acknowledged that her advice to let kids learn from their mistakes goes against many parents' instincts to protect their children from pain. She encouraged moms and dads to ditch their desire for perfection and remind their kids that they're allowed to go through challenges. In the end, Wambach said, that's the key to helping kids grow up to be "wise and brave and kind."
"As soon as [kids] start experiencing humanity and hardship and pain, they think that there's something wrong with them," she said. "And there's not. There's not something wrong with them. There's something wrong with the world. There's something wrong with the things that they're experiencing. They're interacting with the world. I don't think that we should be steering our children away from pain. We actually have to be pointing them into the fires of their life so that they can do it. And we do it with them over and over and over again so we can show them that they're fireproof."
Follow along with the livestream of our How To Raise A Kid conference here.