Bicycling or skating is a refreshing form of exercise for kids. But several accident cases involving children are reported every year. Helmets help in mitigating the impact of such accidents as they protect children from any fatal injuries.
In this post, MomJunction tells you how to select a bike helmet for kids, and shares a list of helmets with best reviews.
Why do kids need a helmet?
A helmet gives maximum protection to the head whether your child is cycling just around the neighborhood or going to school on it. It is a must when they are riding or even pillion riding a bike or skating.
Your child may not like wearing a helmet as it might seem uncomfortable in the beginning. Therefore, pick the right helmet, which is comfortable as well as trendy.
How to pick the right helmet for children?
Before finalizing on a bike helmet for children, you may consider these points:
The helmet should not be too tight or loose. Choose the right size after trying a few helmets.
Go for the one which provides cushioning at various points all over the helmet.
The buckles should be convenient to fasten and not pinch the skin.
When the child opens his/her chin, the buckle should be comfortably locked at the chin and the helmet should hug the head perfectly.
If the helmet has some vents for air to pass, then it's the best. When the helmet is worn for longer durations, it tends to get hot and sweaty inside. So, to avoid scalp and skin irritation, prefer a helmet with better ventilation.
Buy helmets which are certified for their safety features by a credible organization or government agency.
The perimeter of a helmet must be at least 2 or 3 inches above the eyes, for clear visibility.
The appearance of the helmet is also important to lure your child to wear it.
Therefore, pick a helmet which is not only safe and comfortable but also looks cool. In the next section, let's see some such kids' helmets.
Top 15 Bike Helmets for kids
Here are our top picks on bike helmets for kids as per their age.
Bike helmets for Toddlers
You may choose from this list of toddler helmets:
1. Giro Toddler Helmet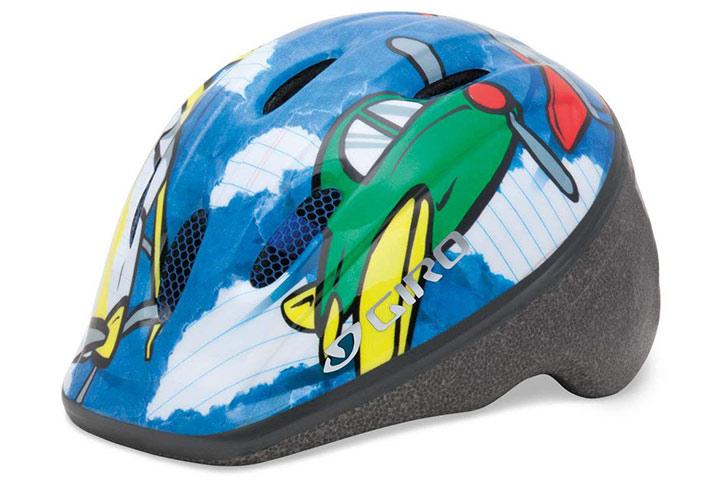 Features:
The Giro kid helmets come in vibrant colors and patterns.
Fitted with mini loc system, this helmet is very safe for kids.
The helmet has six cooling vents to provide ample air inside the helmet.
It has a pinch-proof secure buckle.
Buy here: www.amazon.com
2. Bell Finding Dory Toddler Helmet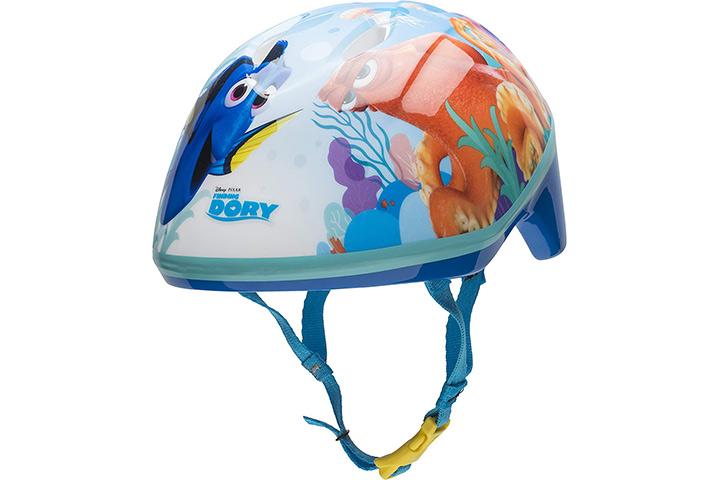 Features:
This cute helmet is equipped with high impact reflectors for clear visibility.
The pinch guard on the buckle ensures safe and pinch-free fastening.
It has four open vents to keep the head cool and refreshed.
The helmet is designed to fit the toddlers perfectly.
Buy here: www.amazon.com
Bike helmets for kids of 3 to 5 years
Helmets for three-year-olds to five-year-olds come in fun shapes, colors and designs. Some of our top picks are:
3. Giro Scamp Bike Helmet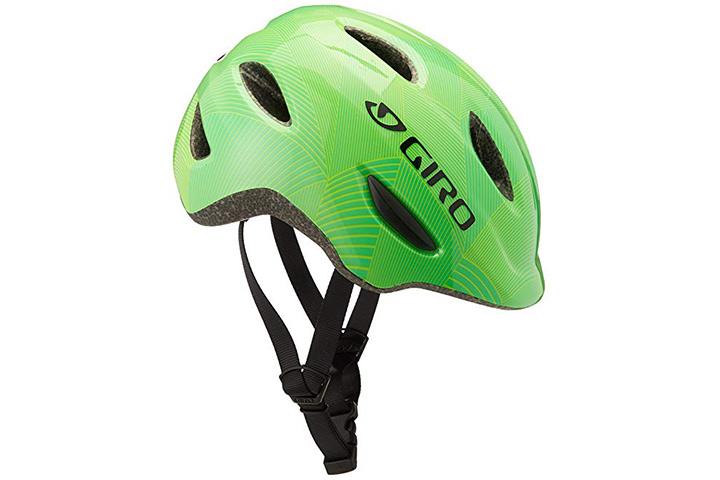 Features:
It is made of a polycarbonate shell and EPS liner.
Has a safe pinch guard buckle.
Has eight cooling vents.
Easily adjusts in size for growing children.
Buy here: www.amazon.com
4. Multi Sport Kids Helmet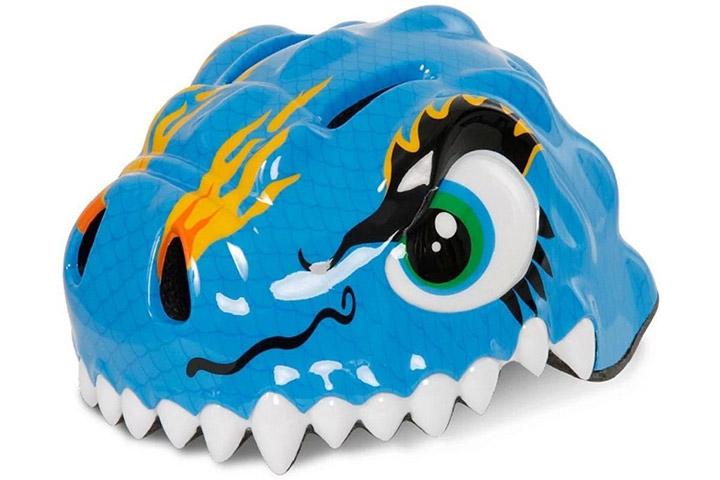 Features:
This multi-utility helmet is ideal for cycling, skating and more.
PC injection molded shell and expanded polystyrene (EPS) foam ensure dual safety.
The helmet is padded and cushioned well from the inside.
The belt and buckle are easy to fasten and adjustable to fit your child's head.
The four-hole ventilation system makes it convenient to use and wear for long hours.
Buy here: www.amazon.com
5. WinMax Bike Helmet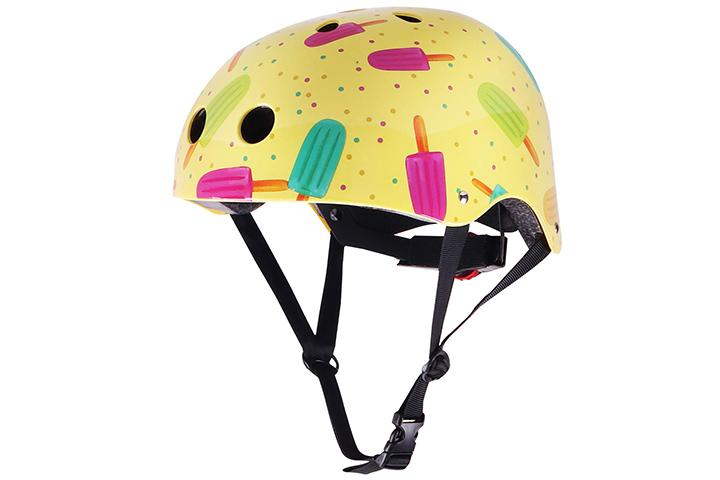 Features:
The sturdy outer shell is made of ABS material and has an EPS foam and sponge padding on the inside.
It absorbs external pressure and reduces the risk of any injuries.
The helmet is equipped with aerodynamic cooling vents, which keep the flow of air consistent.
The ergo design comes with a removal padding so that the child can wear it even as they grow up.
The adjustable spin dial on the buckle fits all ages.
The WinMax bike helmet is CPSC (US Consumer Product Safety Commission) and EN1078 certified.
The helmet comes in various colors and patterns to make your child super happy.
Buy here: www.amazon.com
6. FunWave Bike Helmet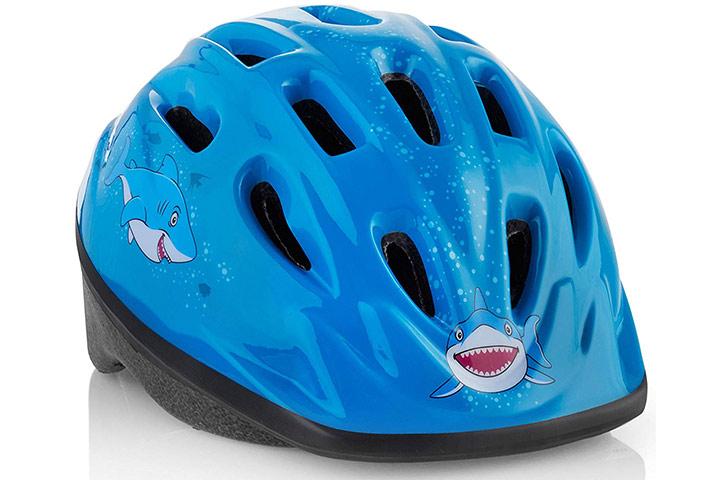 Features:
This helmet has a CPSC certificate.
The shock-absorbing EPS system reduces the risk of injuries.
It's lightweight and has 14 cooling vents.
The straps are adjustable to fit any head size in the growing ages.
The padding inside is flexible and includes 10mm and 5mm pads separately to fit the head even in growing years.
It has a cool aqua design with fun graphics.
This helmet comes with a lifetime manufacturer warranty.
Buy here: www.amazon.com
Bike helmets for kids of 5 to 9 years
This is the age group when kids start exploring their neighborhood. So, buy a helmet which is safe and cute too.
7. Raskullz Mohawk Child Bike Helmet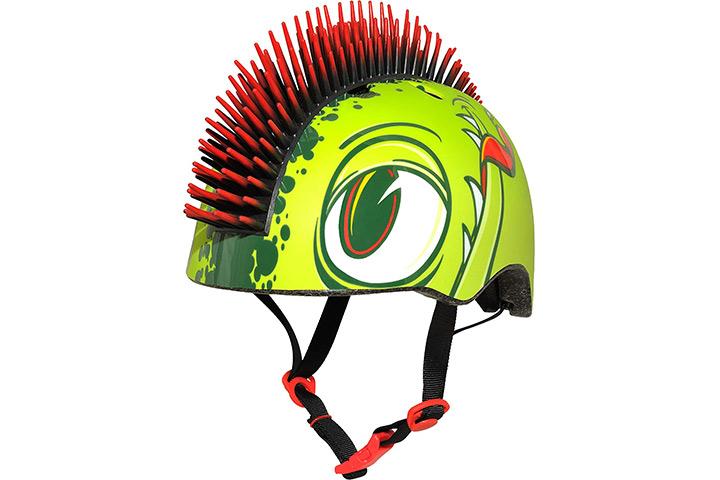 Features:
This specialized kids' helmet has 3D fin hawk and print graphics depicting lightning bolt.
The 5D LED lights in the fin hawk work in two modes — flashing lights and steady.
The lights on the helmet have an auto shut feature to conserve the batteries.
It is certified by the CPSC and the ASTM (American Society for Testing and Materials).
It has aerodynamic cooling vents and is made with shock-absorbing EPS shell.
The strap is adjustable and easy to buckle.
Buy here: www.amazon.com
8. Nutcase Little Nutty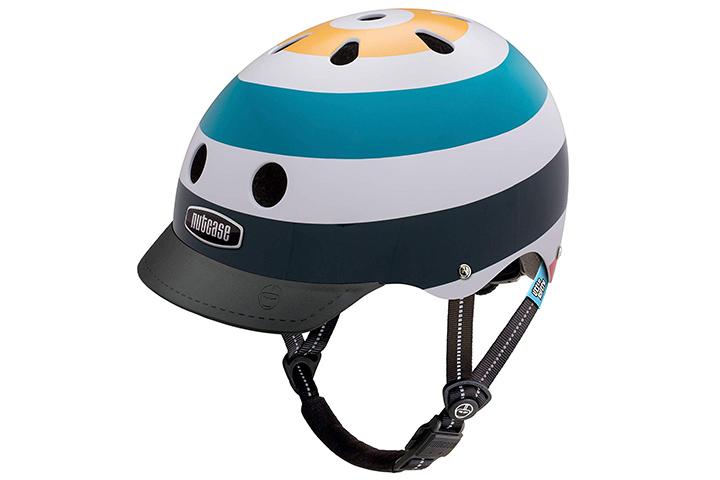 Features:
No-pinch magnetic buckle for easy operation.
The detachable visor shades your kid from rain and shine.
The soft chin cushion provides added comfort.
It has ABS shell and a protective inner foam lining made of EPS.
The most important feature of this helmet is the crumple zones that help dissolve energy in the case of an accident.
360 degrees of reflectivity makes it unique.
Buy here: www.amazon.com
9. Krash Girls Bike Helmet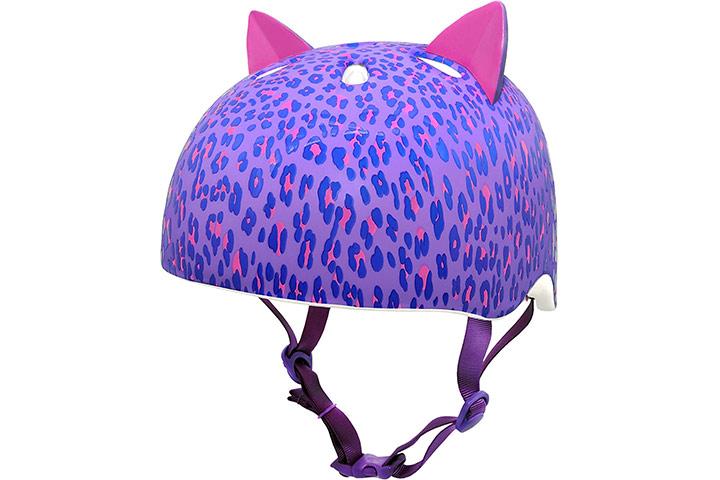 Features:
The helmet is equipped with aerodynamic cooling vents for a breezy feel.
Lightweight and shock-absorbing EPS shell.
Soft cushioning keeps the head protected.
It fits the head size of 54 to 58cm.
It complies with the CPSC and ASTM F1492-08 standards.
Buy here: www.amazon.com
10. Wipeout Dry Erase Kids Helmet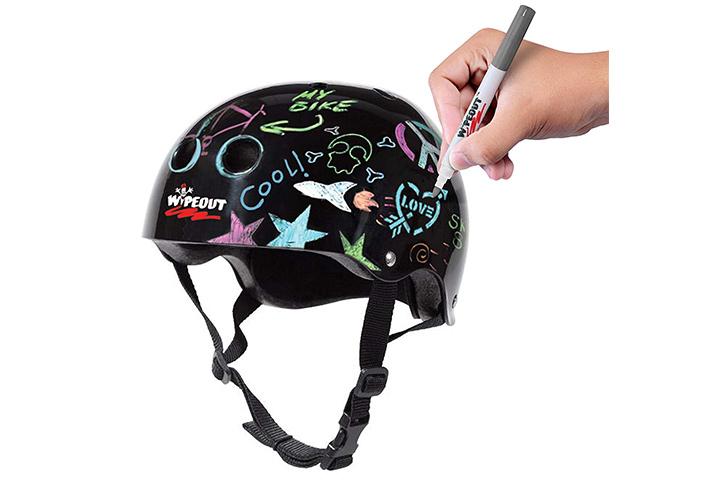 Features:
This cool helmet comes in dry erase format with five non-toxic markers. Your kid can draw and erase things on it.
It has a stencil kit with awesome shapes to help the little artists get creative.
The helmet is sturdy and stylish.
The EPS shell keeps the head safe and protected.
It is certified by the CPSC and complies with the ASTM standards.
Buy here: www.amazon.com
Bike helmets for kids of 9 to 12 years
During this age, your kids may engage in various sporting activities. Therefore, buy a multi-utility helmet.
11. Razskullz Loud Cloud Sparklez Helmet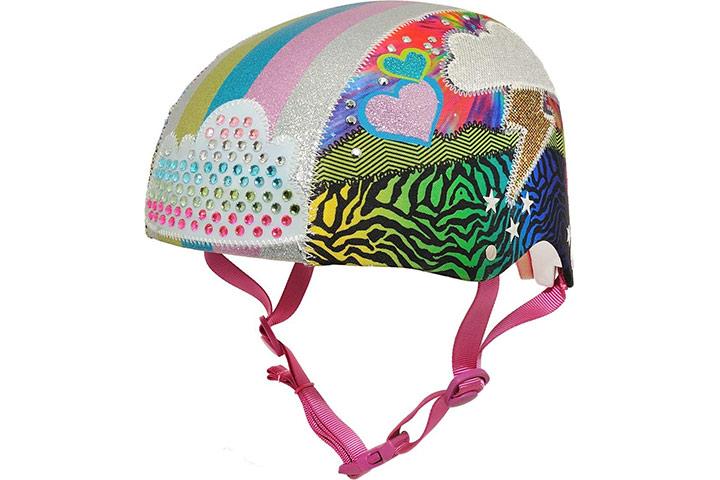 Features:
Aerodynamic cooling vents keep your little kid's head cool and fresh.
Adjustable nylon straps provide comfort.
Shock-absorbing EPS inner shell with cushioning and foam inside.
Certified by the CPSC and ASTM.
Buy here: www.amazon.com
12. Razor V-17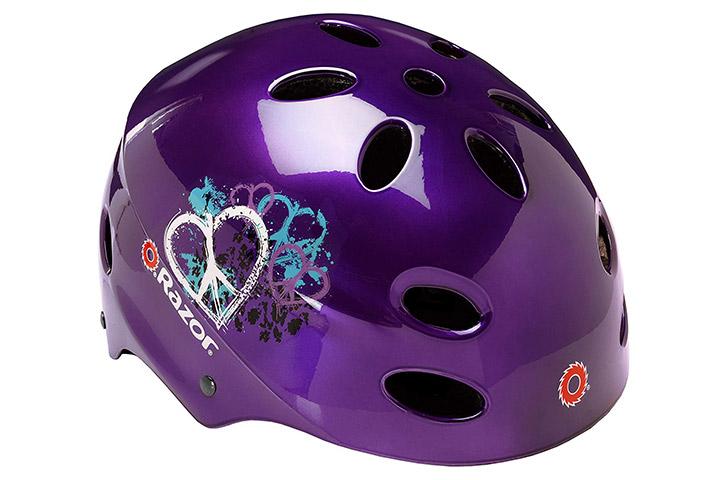 Features:
Ergonomic interior padding for safety and protection.
17 top and side vents keep the rider's head cool.
The side release buckles are easy to adjust and fasten quickly.
It complies with the standards of the CPSC.
Buy here: www.amazon.com
13. Bingo Kids Helmet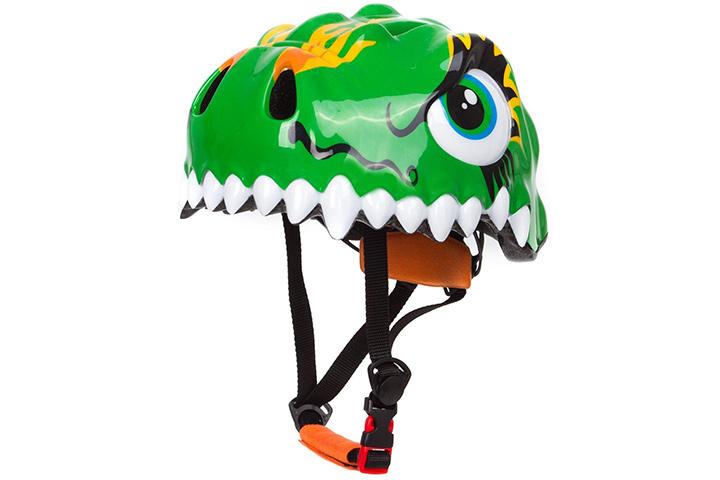 Features:
Thorough ventilation is provided by the four holes on the helmet.
Made of polycarbonate injection molded shell.
EPS lining with foam cushioning on the inside makes it easy to wear.
Buy here: www.amazon.com
14. Bern Junior Nino Kids Helmet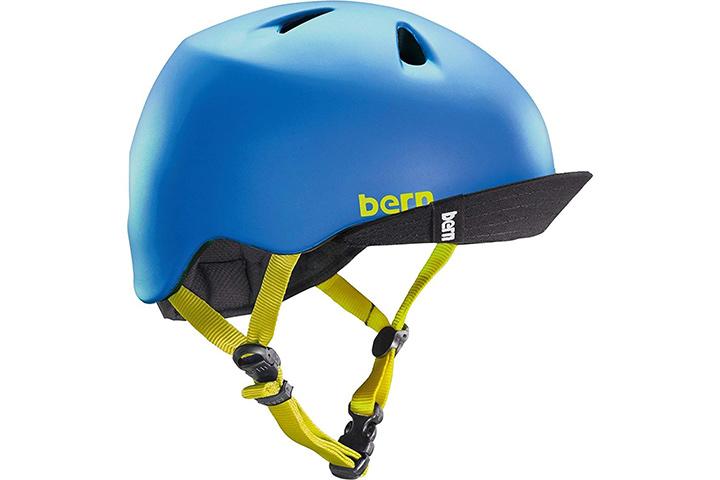 Features:
The unique zip mold liquid foam technology offers a thinner profile, giving the helmet a smaller shape.
Comes with a flip visor.
The helmet complies with the safety standards of ASTM F2040, CPSC and EN 1078.
A winter upgrade kit is separately available.
Available in small and medium sizes for kids of varied age groups.
Buy here: www.amazon.com
15. Bavilk 3D Helmet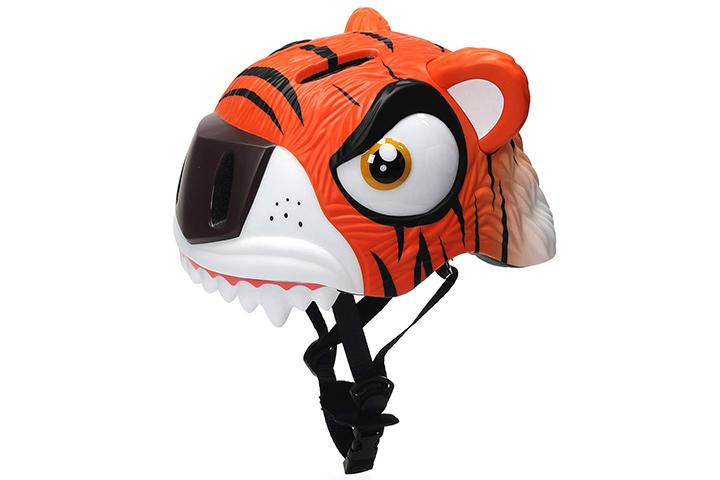 Features:
The shell of this helmet is made of high-density polycarbonate material.
The inside lining is of EPS foam.
Cashmere material is used in designing the washable straps.
There are six air vents to keep the headlight and breezy.
It's lightweight and durable.
Comes in unique 3D designs and patterns.
Buy here: www.amazon.com
Cycling and engaging in sports enables your kid to learn many new skills, inculcates discipline and gives way to a healthy competitive spirit. Therefore, a child helmet is essential to keep them safe from any unforeseen incidents and injuries.
Do you have some tips on helmets for children? Let us know in the comments section below.
Disclaimer: MomJunction may earn a commission when products are purchased through affiliate links given in the article. However, this partnership does not influence the editorial content featuring in our list.
The following two tabs change content below.
Latest posts by Harshita Makvana (see all)

Harshita Makvana
Harshita is a graduate in commerce and holds a PG Diploma in Patent and Copyrights Law from NALSAR University. She has also pursued CA and has more than three years of internship experience in auditing.Her love for travelling has taken her to various parts of the world, and writing the travelogues has what brought out her love for content writing.Harshita has experience in writing blogs and is passionate about presenting complex subjects in an easy-to-comprehend manner.In her spare time, she works on vegan activism, rescuing animals in need, and trying vegan delicacies.